One of the main reasons why people love industrial dining tables is because they have a really cool and charming look. These tables are inspired by factories and warehouses, so they often have raw materials, exposed metal parts, and rustic finishes.
This unique style adds a touch of urban chic to any home, bringing together vintage and modern design elements in a really cool way. An industrial dining table can totally transform your dining area and make it look stylish.
In this article, we're going to explore all the reasons why you should consider getting an industrial dining table for your home.
Why Choose an Industrial Dining Table?
There are several reasons why choosing an industrial dining table can be a great option. Here are a few key advantages:
Durability and Longevity
Industrial dining tables are renowned for their exceptional durability and longevity. Typically made from robust materials such as solid wood, metal, and concrete, these tables are built to withstand heavy daily use.
Unlike flimsy, mass-produced alternatives, industrial dining tables are crafted to stand the test of time, making them a worthwhile investment for your home.
Whether you have a large family or frequently host gatherings, an industrial dining table will provide a sturdy and reliable surface for meals, celebrations, and everyday activities.
Versatility for Different Spaces
Another significant advantage of choosing an industrial dining table is its versatility. Whether you have a spacious dining room, an open-plan living area, or a compact kitchen, an industrial dining table can adapt to various spaces.
Available in a range of sizes, shapes, and designs, you can find the perfect fit for your specific needs.
From small round tables that maximise space to large extendable options for accommodating guests, there is an industrial dining table that will seamlessly blend into your home's layout and style.
Easy Maintenance and Care
When it comes to maintaining and caring for your dining table, industrial options are a breeze. Thanks to their robust construction, these tables require minimal upkeep.
Spills and stains are easily wiped away, and scratches or dings can add character to the rustic appearance. Unlike delicate glass or high-maintenance wood finishes, industrial dining tables can handle the rigours of everyday life without losing their charm.
This low-maintenance aspect makes them an ideal choice for families with children or those who simply prefer a hassle-free dining experience.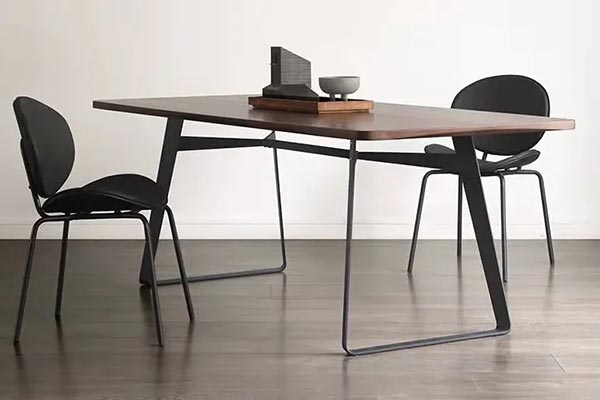 Eco-Friendly Choice
If you're conscious about reducing your environmental footprint, an industrial dining table is an eco-friendly choice. Many industrial dining tables are crafted from reclaimed wood or recycled materials, giving them a second life and minimising the need for new resources.
By opting for a sustainable furniture piece like an industrial dining table, you contribute to the conservation of forests and promote responsible consumption. This environmentally conscious decision adds another layer of satisfaction to your dining experience.
Unique Aesthetic Appeal
One of the standout features of an industrial dining table is its distinctive aesthetic appeal. Inspired by the utilitarian look of factories and warehouses, these tables often feature exposed metal accents, raw finishes, and a rugged charm.
The industrial style adds a touch of character and authenticity to your home, creating a captivating focal point in your dining area.
Whether you have a modern, rustic, or eclectic interior design, an industrial dining table can effortlessly complement and enhance the overall look and feel of your space.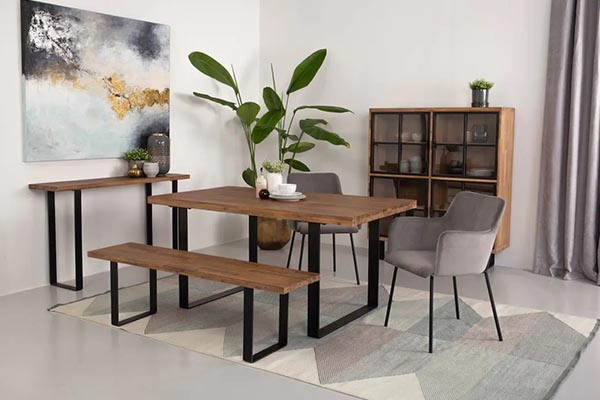 Customization Options
Industrial dining tables offer a wide range of customization options, allowing you to tailor the table to your personal taste and style preferences.
From choosing the type of wood or metal used to deciding on the finish, you have the freedom to create a bespoke piece that perfectly matches your vision.
This level of customization ensures that your dining table not only fits seamlessly into your home but also reflects your unique personality and design aesthetic.
Perfect for Entertaining
If you enjoy hosting gatherings and entertaining guests, an industrial dining table is an ideal choice. With their sturdy construction and ample surface area, these tables provide the perfect setting for memorable meals and lively conversations.
Whether it's a formal dinner party or a casual get-together, an industrial dining table can accommodate a large number of guests comfortably.
Additionally, you can easily accessorise the table with centrepieces, tableware, and decor items to create an inviting atmosphere that wows your visitors.
Timeless Appeal
Industrial design has stood the test of time, and an industrial dining table embodies this timeless appeal.
Unlike trendy or fad-based furniture styles that may quickly go out of fashion, the industrial aesthetic remains relevant and sought after. Investing in an industrial dining table means you're choosing a piece that will continue to look stylish and relevant for years to come.
This long-lasting appeal not only enhances the overall value of your home but also ensures that your dining area remains a visually appealing space that never goes out of style.
FAQs
1. Are industrial dining tables suitable for both modern and traditional interiors?
Yes, industrial dining tables can complement a wide range of interior styles, including both modern and traditional decor. Their versatile design and unique aesthetic make them a great choice for various home settings.
2. Can industrial dining tables be customised to fit my specific requirements?
Absolutely! Many furniture manufacturers offer customization options for industrial dining tables. You can choose the size, shape, and finish that best suits your needs and preferences.
This ensures that the table seamlessly integrates into your home and reflects your personal style.
3. Are industrial dining tables comfortable for seating?
Industrial dining tables typically accommodate a range of seating options, from dining chairs to benches. The choice of seating can greatly impact the comfort level. Opt for cushioned chairs or add seat cushions to enhance the comfort of your dining experience.
4. Can industrial dining tables be used outdoors?
While some industrial dining tables are designed for outdoor use, it's important to check the specific materials and finishes to ensure their suitability.
Outdoor-friendly industrial dining tables are typically made from weather-resistant materials like powder-coated metal or treated wood.
Summary
Finding the perfect industrial dining table for your home can add a special touch of charm and versatility to your dining area.
Whether your interior design leans towards modern or traditional, an industrial dining table has the amazing ability to seamlessly blend in and become the centrepiece of your dining space.
If you're on the lookout for a dining table that effortlessly combines style, functionality, and durability, then look no further than the industrial option. It ticks all the boxes and will surely make a lasting impression in your home.