A rectangular dining table is more than just a piece of furniture. It is the heart of any home, where family and friends come together to share meals, conversation, and memories.
It is a classic and versatile option that works in various spaces, from small apartments to grand dining rooms.
In this article, we'll cover everything you need to know about rectangular dining tables, including choosing the perfect size, style, and material for your space.
Size Matters: Choosing the Right Size Table
The first thing to consider when choosing a rectangular dining table is size. You want a table that is big enough to accommodate your family and guests, but not so big that it overwhelms the room.
As a general rule, you should allow at least 24 inches of table space per person. This means that a table that seats six people should be at least 72 inches long. However, it's important to consider the size of your room as well.
You don't want a table that is too big for your space, as this can make the room feel cramped and crowded. Generally, you should allow at least 36 inches of space around the table for people to move comfortably.
This means that a room that is 10 feet by 12 feet can comfortably accommodate a table that is 72 inches long.
Style Matters: Choosing the Right Style Table
Once you've determined the size of your table, it's time to consider style. Rectangular dining tables come in a wide range of styles, from traditional to modern, rustic to industrial.
The style you choose should complement the overall aesthetic of your home and reflect your personal taste.
If you have a traditional home, a classic wooden table with turned legs and a rich finish is a great choice. For a more modern space, consider a table with clean lines and a minimalist design.
Rustic dining tables with distressed wood and metal accents are perfect for a farmhouse or industrial-style home.
Material Matters: Choosing the Right Material Table
The material you choose for your dining table is another important factor to consider. The most popular materials for rectangular dining tables are wood, glass, and metal.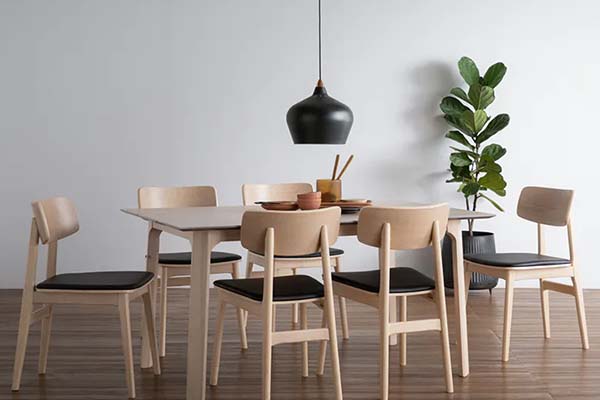 Wooden dining tables are a classic choice that never goes out of style. They are durable, long-lasting, and come in a wide range of finishes, from light and natural to dark and rich.
Glass dining tables are a more modern option to make a small space feel larger and more open. They are also easy to clean and maintain.
Metal dining tables are a great choice for an industrial-style home and are typically very durable.
Maintenance Matters: Caring for Your Table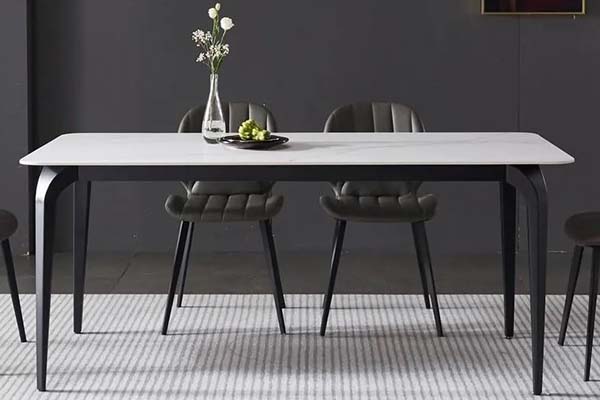 Once you've chosen your perfect rectangular dining table, it's important to take care of it so that it lasts for years to come. The maintenance required will depend on the material of your table.
Wooden tables should be cleaned with a soft cloth and mild soap and water.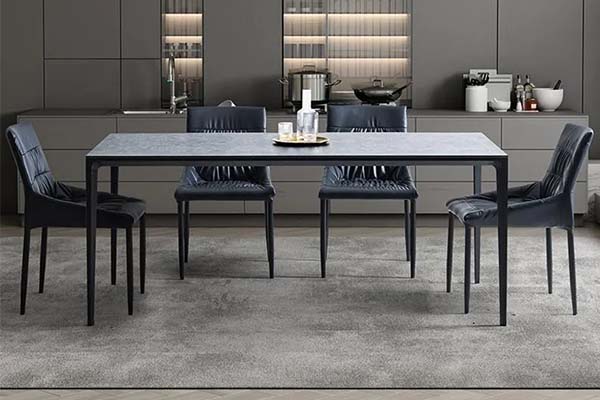 Avoid using harsh chemicals or abrasive materials, as these can damage the finish. Glass tables can be cleaned with a glass cleaner and a soft cloth.
Metal tables should be wiped down with a damp cloth and dried immediately to prevent rust.
What are the advantages of rectangular dining tables?
Rectangular dining tables are versatile, functional, and easy to use. They can be used in a variety of settings, from casual family meals to formal dinner parties.
They are also great for hosting large groups of people, as they can accommodate more guests than round or square tables of the same size.
How should I choose the right rectangular dining table for my needs?
When choosing a rectangular dining table, consider your needs and preferences, including the size of your space, the number of people you want to seat, your decor style, and your budget.
Measure your space carefully and choose a table that fits comfortably in the room without overcrowding it.
Consider the material and style of the table and choose one that complements your existing decor.
Summary
A rectangular dining table is a timeless piece of furniture that can work in a variety of spaces and styles.
By considering the size, style, and material that will work best in your home and taking proper care of your table, you can create a welcoming and inviting space for family and friends to gather and enjoy meals together.